Unsuccessful Automatic Withdrawal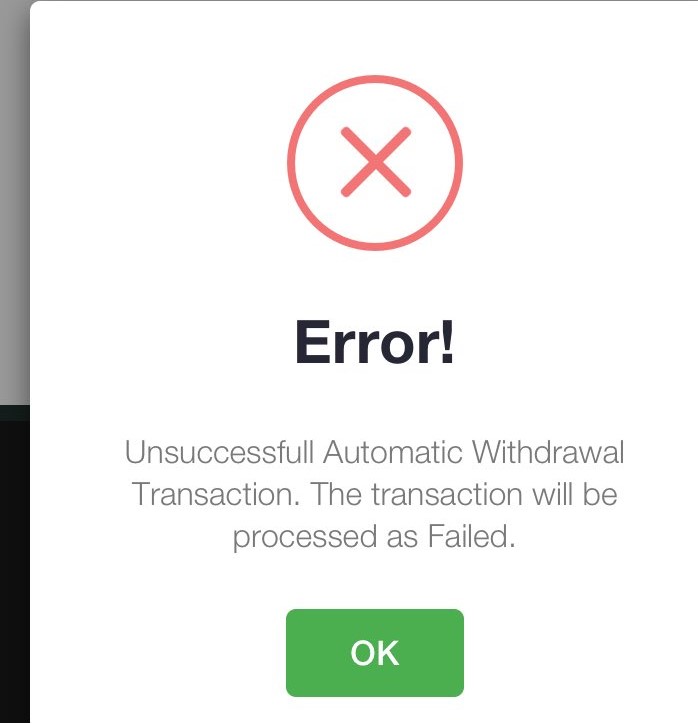 You are likely getting this error because the system has flagged your account.
Having multiple accounts with us which is against our Terms & Conditions as stated in Clause 7.1, "Customers may open only one account. Should we identify any customer with more than one account we reserve the right to close such accounts"
See full terms here https://bit.ly/3k7ygJb

Contact out to our Customer Support Team for further assistance
Related Articles

Not Allowed Due To Player Block

There are a few reasons you can get this error when attempting to make a withdrawal You are attempting to withdraw your deposit. Deposited funds must be staked before you can make a withdrawal. Click here for deposit terms, see clause 8.6 You are ...

How to withdraw?

- Log on to your Frapapa account - Click on the icon displaying your balance - Click on "Withdrawals" - Input your desired withdrawal amount - Select your saved bank account details. - Click on the "Withdrawal" icon. Please Note: You must Add ...

How long does it take to process withdrawals?

We have our withdrawals processed instantly.Why was my withdrawal rejected?There are a couple of reasons your withdrawal may be rejected:Why was my withdrawal rejected?Profile information incomplete :You are yet to update your full names on your ...

How to use Promo Code for Existing Users

Login to your account Click on "My Profile" Click on the submenu and select 'Bonuses' Select 'Bonuses' as seen on the screenshot below Input the Promo Code in the 'Add Promotional Code' field and click 'Add' Upon a successful addition of the promo ...

How to check Transaction History

- Visit www.frapapa.bet and log on to your account - Click on the profile icon and access "My Profile" - Click on the horizontal lines and locate "History" This feature allows you view deposits, withdrawals, and bet history on your account.